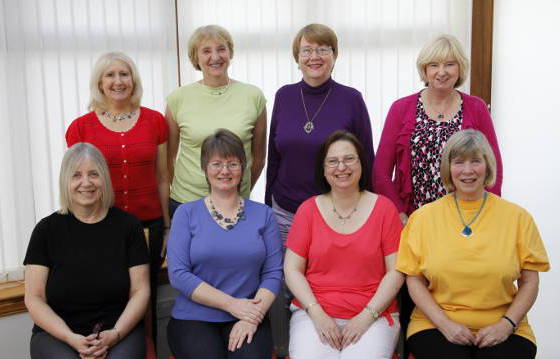 The LiterEight Writers
Fiona Atchison has had an interesting and varied career, including working with horses, being a joint proprietor in a Wine Bar and Nightclub and teaching children with special needs. She currently works as an Occupational Therapist and writes part-time. Fiona has had poetry and short stories published in magazines and anthologies. She also ventured into writing song lyrics which led to a collaboration with a musician, producing three CDs.
Her writing success at the Scottish Association of Writers includes a first for poetry in 2005, first for Science Fiction in 2008 and she won the General Novel Competition in 2014.
Maggie Bolton is English by birth but has lived in Scotland with her husband for the past twenty odd years (not all that odd). She taught both in the UK and in Germany and now retains contact with children as a Rainbow Guide Leader. No surprise then that her main interest is children's writing, but she also enjoys other writing forms, provided it's not too serious (Don't look for 'deep and meaningful' unless you have a lot of time to waste.) She is also a painter, exhibiting locally and would like to break into illustration.
Helena Sheridan was born in Biggleswade. Her family emigrated to Melbourne, Australia, returning to the UK in 1976 and she now lives in Scotland. Her keen interest in drama has resulted in her plays and comedy monologues being performed in various Scottish theatres. She has also written children's educational scripts for BBC Radio Ulster and is published in women's fiction, poetry and articles both in the UK and abroad.
Lesley Deschner enjoys writing short stories, articles, humorous poems, sketches and plays. Her passion for acting has introduced her to local Ayrshire theatre companies, such as Hipshot and Polymorph with whom she has taken roles. She stepped down from her the Council of the Scottish Association of Writers (March 2014) and her role as Secretary for the Writers' Summer School, Swanwick, Derbyshire (August 2014) to begin a two year Part-time PG Diploma in Counselling at Strathclyde University.
Janice Johnston has lived on the same Ayrshire farm for most of her life. She has written for a good chunk of that time, too, but only seriously from the mid-90s. She joined a local writers' club and began to have success with children's short stories and woman's magazine short stories. She has been published in magazines in Australia and South Africa, as well as the UK. For a number of years, she wrote scripts for education programmes for BBC radio. When not writing, she helps her husband on the farm and tries to keep track of her two grown up sons.
Catherine Lang started writing in her teens and her love of words led to a life-long career in public affairs. She wrote on myriad topics – briefing materials, speeches, feature articles – and her work regularly appeared in print and electronic media. For the past decade she has added book reviews, fiction, children's writing, poetry and drama to her portfolio and has enjoyed success both in publication and in competition, including winning the inaugural May Marshall Book Review Trophy at the Scottish Association of Writers' Conference in 2007, and again in 2013.
Fiona McFadzean was hooked on writing after winning a National Competition in primary school, enjoying drama and poetry in particular. For many years she wrote sketches, revues and plays for amateur dramatics and youth theatre. She has also devised training programmes for Adult Literacy and modified GCSE coursework for students with Special Educational Needs while working in Education. She has also taught creative writing to adults and teenagers and she still teaches Sunday School where she uses storytelling and drama to get the message across to Primary 1 and 2. After serving on various writing committees, Fiona decided that it was time to concentrate on her personal output and, at present, is working on both a crime and a romantic novel.
Greta Yorke is a retired primary teacher who lives in west Scotland. Story writing started at school where she transformed jotters into storybooks, but she did not begin writing seriously until 2008 when she joined Ayr Writers' Club. Since then she has enjoyed success when her children's story won first place in the Scottish Association of Writers' Competition in 2010. She has had poetry and articles published, in addition to children's stories online.