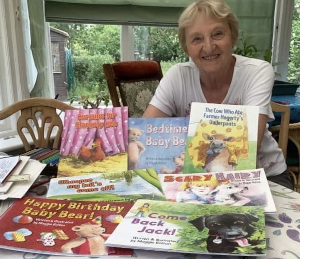 Maggie Bolton
As a child I always liked to write and illustrate stories (doesn't everyone?) I progressed from the simpler stories about families of rabbits or lost puppies etc. to long, meandering adventure epics. These clearly owed much to Swallows and Amazons, Black Beauty with a strong dash of Famous Five thrown in; great fun for the author but no doubt brain-crunchingly tedious for anyone else.
While most people grow out of this, I obviously had it deeply buried somewhere in the psyche as, after a period of writing only for educational purposes, it resurfaced. This was still in the era of type-writers, carbon paper and perhaps the occasional blob of Tippex. If the production of copy was more difficult at that time, finding publishing outlets was certainly easier. I wrote stories and articles for a variety of magazines, even having a regular feature spot in a small- circulation, monthly magazine. I wrote children's stories for a local radio station and was quite successful in writing those complex, multiple-choice, throw-of-the-dice quest stories which were popular before more realistic computer versions stole their thunder.
After a period when other life commitments took priority, I returned to writing after moving to Scotland. Ayr Writers' Club provided the support, encouragement and the all-important motivational input (that's psycho-babble for 'kick-up-the-behind!) that got me once again writing articles, stories for women's magazines, but mainly writing for children.
Today as the publishing world is going through a period of readjustment, e-publishing is taking on an ever greater role. So, while I'm old-fashioned enough to still prefer to see my work on paper, e-publishing is a new and exciting avenue to explore.
Maggie Bolton has been quite busy, not only writing picture books but illustrating them too. Maggie was first persuaded into illustration by Greta Yorke, who wanted to self-publish her prize-winning picture book story Witch Hitch and needed an illustrator. Since then Maggie has illustrated three more books for Greta and books for other authors, as well as her own four picture books Scary Hairy, Bedtime Baby Bear, Come Back Jack and, most recently, Whoopee My Tail's Come Off. Illustration takes a long time and a lot of work, but the satisfaction of seeing the finished book on the shelves makes it all worthwhile.