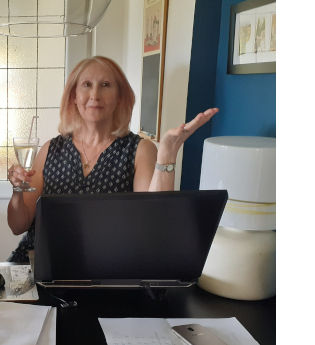 Fiona Atchison
I was born in Kilmarnock in 1959, left school at sixteen to pursue a career with horses. I have had a series of jobs including: running a market stall and catering wagon; joint owning a winebar and nightclub; working as an educator for children with special needs and working as an Occupational Therapist. I have a wonderful daughter, Debbie and husband, John.
My lifelong love of reading ultimately led to a passion for writing but didn't 'gel' until my early forties. I initially began with poetry. A five month illness was responsible for allowing my mind to roam at will. Through long days of gentle recuperation, I gazed at the sky through the conservatory window and began to 'write' in my head. Insidiously my brain became a prolific schemer of lines; a virtual rhyming dervish! During this period of late 2003 into 2004 I was even brave enough to submit a few poems to various magazines and subsequently amazed to receive acceptances by publications such as: New Cauldron, Connections, and First Time. There is an adrenalin rush, akin to euphoria when a piece is accepted and a further delight in seeing it in print for general consumption. From poetry I began writing song lyrics and won an on-line song writing competition. This led to a collaboration with Ian Alexander a singer/guitarist who put more of my lyrics to music and there are three lovely CDs from that partnership.
I eventually began to think of writing in other genres but really didn't know where to start. It was therefore a fortuitous turning point when I became a member of Ayr Writers' Club in the season of 2004/05. I have a lot to thank the club for. It gave me confidence in trying new genres for competitions, some of which I have won or been placed over the years. In 2006, one of my short stories was printed in the Ayr Writers' Club Anthology, '800 Words' to mark the town of Ayr's 800th anniversary. In my first year's attendance at The Scottish Association of Writers (SAW) Conference, in 2005 I was successful in winning the Dorothy Dunbar Memorial Trophy for poetry. My other win at SAW was in 2009, the inaugural award by Writers' News for a Science Fiction story. That year I was also a runner up for the Scottish Imprint competition.
Crime and drama are my favourite genres at present and over the years I've won several crime short story competitions and currently hold the AWC drama trophy for 2011-2012. Writing for children is a difficult genre so I was very pleased to have two short picture book stories published in 2011 by Ice Water Press in Australia.
Now at the tail end of 2012 I am delighted and honoured to be part of a group of very experienced Scottish writers in the launch of our new ibook, A Literary Confection. I hope you enjoy the stories and poetry we have chosen for this, our first joint publication.