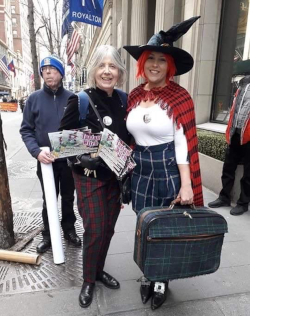 Greta Yorke
Greta Yorke is a retired primary teacher who lives in Prestwick, Scotland.
Story writing started at school where she transformed jotters into storybooks but she did not begin writing seriously until 2008 when she joined Ayr Writers' Club. Prior to this she had compiled a book of children's drawings which she annotated and successfully sold to raise money for the children who had survived the Beslan siege.
She has successfully completed Open University courses on Fiction Writing and Poetry. Since then she has had success when her children's story won first place in the Scottish Association of Writers' Competition in 2010. She has had poetry and articles published and has children's stories published at alfiedog.com
Greta writes children's stories which are if possible of educational value and usually humorous, stories which are interactive and equally suitable for bedtime.
Greta has published four picture books, which are available on Amazon, Witch Hitch, The Woo in the Wild Woods, Tartan Witch and How the Pirates Turned the Tide. These stories are of educational value, addressing current issues whilst being both humorous and interactive. Tartan Witch won the Scottish Association of Writers' award for Self Published Book in 2018. Greta is currently working on a children's novel.