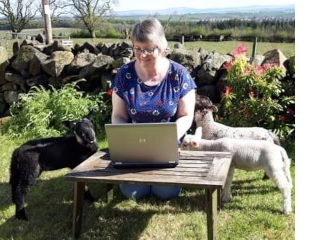 Janice Johnston
I've always enjoyed writing but didn't think of sending anything to a magazine until The Scottish Farmer - an important publication in our household - announced a 'soapbox' slot. I had a few rants published and I was thrilled to see my name in print but the Scot in me was riled at not being paid.
I joined Ayr Writers' Club in the mid '90s and, with other members' encouragement, sent a short story off to My Weekly. They accepted it and the same story went on to be published in Australian and South African magazines. My Weekly has also published a good number of my children's stories and humorous articles in their 'Lighter Looks' section - my family was a constant source of inspiration for most of these pieces.
I began to have fiction published in magazines such as Woman's Weekly, Best, and Bella as well as My Weekly. Again, I exploited my family - I even managed to sell a story based on my younger son's dog being run over. (I don't think I ever told him, though, and I still feel slightly guilty about doing it!)
I've had a number of scripts accepted for a children's education programme, One Potato, Two Potato, produced by BBC Radio Ulster. They also produced a radio, then TV, programme for younger children called Hurley Burley and I wrote quite a few stories for these, too.
I've also written non-fiction. I wrote various sections of an information pack on The River Ayr Way walk and have had articles published in a local magazine.
I was even shortlisted for the McCash poetry competition one year which was a big surprise since I've only written a handful of poems in my life. This poem has recently been published in The Smeddum Test, 21st Century Poems in Scots: The McCash Anthology 2003 – 2012.
I've attended the Scottish Association of Writers conference for more years than I can count and won my fair share of trophies. I'm the current holder of the TC Farries Trophy for a children's novel and the Margaret McConnell Trophy for a Woman's Short Story.
My most recently published story was this autumn in the Australian magazine, 'that's life! Fast Fiction.'