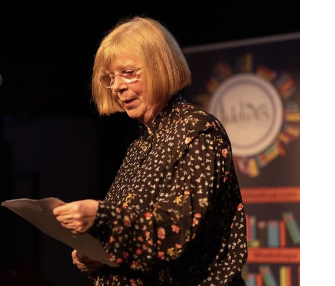 Fiona McFadzean
After winning a National short story Competition in primary school I was hooked on writing. During my High School days I wrote topical sketches and revues for the local concert party, travelling round the county doing performances for charity. I also found poetry to be a nice little earner as I penned odes and sonnets for love sick swains, to present to their ladies on Valentine's Day. And, I was always in demand as an after dinner poet at the Football Club's annual do, summarising the year in verse.
The love of Drama has never left me and I have been involved in Amateur Dramatics and Youth Theatre for most of my life; writing, acting, producing and directing.
My writing continued into the workplace as I devised staff training programmes, programmes based on everyday living for Adult literacy, and modified GCSE course work in all subjects for students with Special educational needs. I was also involved in Community Education, running creative writing workshops for adults and teenagers.
After moving to Ayr came the writing club years. As a member of both Ayr Writers' Club and Writability I continued to write, entering club competitions, with a modicum of success. Having served on the committee of both clubs I went on to act as secretary for The Scottish Association of Writers and for The Writers' Summer School, Swanwick. While I thoroughly enjoyed being an almost professional committee wallah I had to make the decision to put it all behind me if I was to concentrate on my own writing. Even so a kick start was required. Litereight has provided that.
At present I am working on a Young Adult Novel as well as a Romantic Novel with a hint of intrigue. And, of course, all these club competitions!